Air handling units TCF ZAE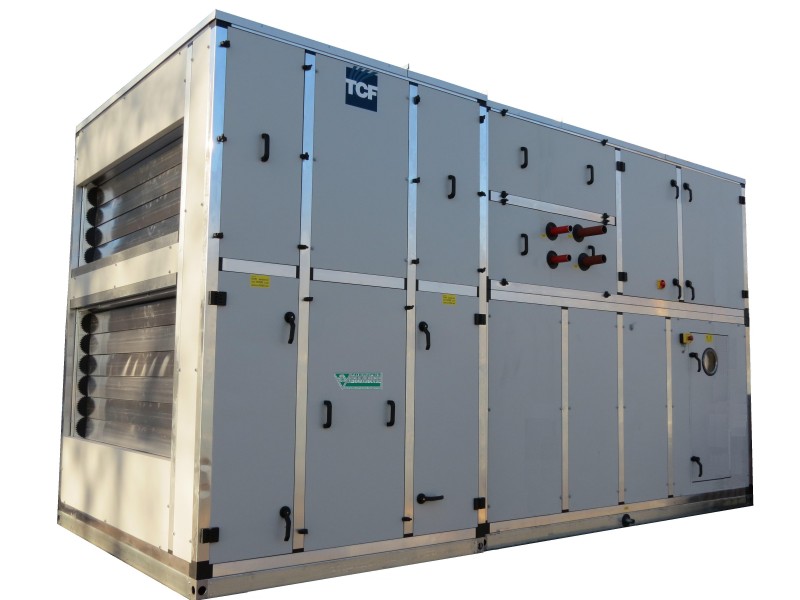 Air volumes from 800 m3/h to 130.000 m3/h selectable with the software certified by Eurovent. Panels thicknesses 60mm with thermal cut. Special designs on demand.
Modular structure with aluminium frame and panels.
Panels materials are pre-plastified galvanised, aluminium or stainless steel AISI 304.
Insulation materials are hot-injected polyurethane (density 42 kg/m3) or rock wool (80 kg/m3).
Base frame in extruded galvanised steel profiles with height 100mm, 180mm with or without support feet.
Condensate drain pans in stainless steel AISI 304 for cooling coils and humidification sections.
Closing pads and support frames/slides in stainless steel AISI 304 for all the wet parts related to cooling coils and humidification sections.
Double inlet centrigfugal fans, with forward- or backward-curved blades, plug fans, direct driven fans with brushless motors.
Customisation of the AHUs as concerns the dimensions, materials, special execution.
The casing
The containing shell is made up by the assembly of frame-panels-base frame, which is bearing and suitable to host within all the functional devices. The mechanical stability and indeformability of the frame as a whole are evaluated in the design phase. The extruded profiles constitute the main bearing frame of our air-handling units is made out of extruded aluminium profiles. By means of three-way joints in hot-dip aluminium, the containing frames for the elements are obtained, and the support on which the panels and fixed, thus constituting the bearing assembly of the containing shell. The structure thus realised is free from welding but equally resistant from the mechanical point of view permitting, when it should be requested (worksites with particularly narrow spaces) the complete disassembly of the unit and a quick re-assembly of the same.
The fixing of the panels to the aluminium frame is made with galvanised steel screws, fitted inside spacer bushes in nylon and protected from weather conditions by appropriated joint caps.
The use of foamed panels with very elevate rigidity has allowed us to reduced to the minimum the number of screws used, without sharp edges at sight and without screws on the external surfaces. The system of screws + spacer bush grants an excellent fixing of the panels on the internal frame of the profile, as this is pressed for all its thickness on the rubber gasket. The gasket is fixed with sticking resins to be selected among the finest on the market and all the tips of the screws are covered with accident-prevention caps. On request, it is possible to have the profiles with THERMAL CUT EXECUTION, obtained by introducing special plastic inserts  within the profile itself. This solution breaks the metallic continuity between the internal components and the frame, and between the frame and the panels, thus guaranteeing an efficient thermal insulation.
Condensate drain pans
Exclusively in stainless steel material: AISI 304 STAINLESS STEEL thickness 15/10mm. We have abandoned long ago the solution of galvanised steel, even if very thick, since we believe that all wet surfaces must have absolute resistance to corrosion – they must be perfectly cleansable and maintainable for the whole operating life of the unit without any chemical-physical degrade. Not even aluminium, notwithstanding it is not subject to "rust" corrosion, is immune to oxidation processes (flowering): even if protected by suitable anodisation processes, it cannot be deemed as suitable a material for what asserted before.
Type of panels
TYPE ZP-P
The external sheet is constituted by a plasticized galvanised sheet, the internal one by a simple galvanised sheet – this is the standard execution which is most commonly used – the external plastic coating is made from polyvinyl chloride (PVC) with a thickness of 150 microns. The standard colour is light grey code N1 (on request, other colours could be used, within the RAL range). The plastic coating, having protective anti-oxidising and anti-scratch function, is made from a plastic film applied at hot temperature (around 160°C) on the metal sheet and it is self-extinguishing, atossic, anti-mould and not hygroscopic. Our plasticisation is suitable also for external installation.
TYPE A-Z
The external sheet is constituted by an aluminium sheet, , the internal one by a simple galvanised sheet – a solution appropriate for applications where a good resistance to weathering is requested, but with a good mechanical resistance.
TYPE PA-Z
The external sheet is constituted by a peralluman (aluminium alloy) sheet, , the internal one by a simple galvanised sheet – a solution appropriate for applications where a good resistance to weathering is requested, but with a good mechanical resistance.
TYPE A-A
Both sheets are in aluminium.
TYPE PA-PA
Both sheets are in peralluman.
TYPE X-X
Both sheets are in AISI 304 stainless steel at a very elevate mechanical resistance and absolute inalterability to external agents, weathering, ambiences with high salt concentration, applications in chemical, pharmaceutical and food industry.
Cover roof
All our units manufactured for EXTERNAL installation, or in general subject to weather agents, are equipped with a protection roof in plasticized/galvanised steel, aluminium, AISI 304 stainless steel, on request.